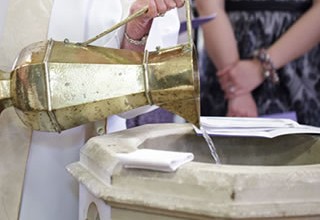 A Christening or Thanksgiving After the Birth of a Child celebrates the hope you share for your baby's future journey through life; and Christening marks the first steps taken in the journey of the Christian faith. It is a sign of God's care and of our first response to his calling, freely shared with all people.
A person can be Christened or Baptised at any age, whenever it seems appropriate to mark those steps. In the case of an older person they may also be confirmed.
Confirmation is a way for a teenager or an adult to affirm their faith as it matures, to claim the promises made on their behalf if they were Christened as a baby, or to mark a committed relationship with the Church of England.
If you would like to enquire about booking a Christening, a Thanksgiving After the Birth of a Child, a Baptism, or a Confirmation; at St Mary's, East Barnet, please contact us.
---